Lil Nas X
Kevin Hart's Interruption
Used to be No Gigantic Deal for Me on 'The Store'

Eleventh of September/2019 12:40 AM PT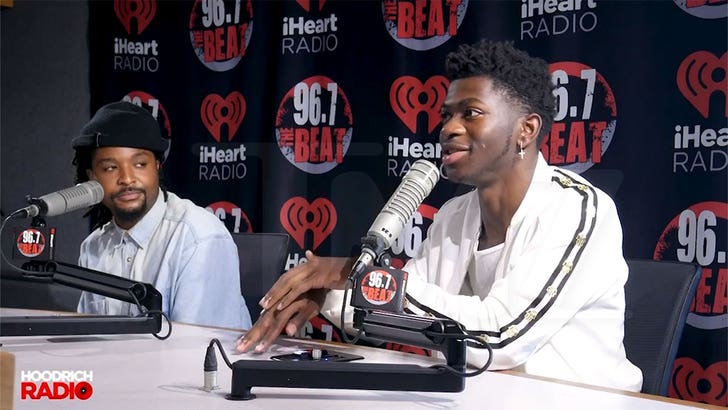 Queer
Hoodrich Radio
To the entire folk ticked off at Kevin Hart on behalf of Lil Nas X for seemingly interrupting his memoir about coming out — LNX says feel anyway ya need, factual fabricate no longer depend him amongst the outraged.
The "Frail Town Avenue" rapper says he is no longer fuming about the perceived diminutive. Whereas recording an interview Tuesday with DJ Bellow and Moran Tha Man — for his or her Atlanta-basically based gift, Hoodrich Radio! — he said, "I'm no longer wrathful at Kevin Hart."
Lil Nas surely wanted that to sink in for the outrage police on the Net … who were serene going after Kevin, even after he suffered severe accidents in that car accident.
Final week on HBO's "The Store" Nas X used to be asked about coming out as gay earlier this year. Earlier than he may maybe possibly even glean into why he came out when he did … Kevin blurted out, "He said he used to be gay, so what?!?" Many folk stumbled on it tone-deaf.
Kevin later interjected with extra clarifying questions that some took as disrespect, especially in light of his past points with the LGBTQ group.
Effectively, Lil Nas would not ogle it that technique — or if he does, he is no longer talking about it. He insists there's no beef between Kevin and him. On the other hand, he admits IF he did contain beef, he wouldn't air it publicly … and he outlined his MO when it involves celeb feuds.
Bottom line … fabricate no longer glean Lil Nas X twisted!!!